Vitamins and Supplements in Phoenix, AZ
Scottsdale Lifestyle Medicine specializes in all-natural healing that protects and improves your overall health. Our vitamins and supplements for men and women in Phoenix, Scottsdale, Glendale, Mesa, and the surrounding areas of Arizona are tailored to lifestyle modifications that help heal your body naturally.
What Are Vitamins and Supplements?
Vitamins and supplements are recommended for most of our clients to ensure that the body receives appropriate levels of key nutrients. Even with the highest level of attention and dedication to culinary medicine [LINK] and other techniques, you may not be able to provide your body with all the nutrients it needs in a particular day. Reducing our client's dependence on pharmaceuticals is the goal of our lifestyle clinic; however, we often find that people will focus on supplementation too heavily. Supplements can be a band-aid that we use until the dietary changes are effective.
How Much Do Vitamins and Supplements Cost?
The cost of your vitamins and supplements at Scottsdale Lifestyle Medicine is based upon the healthcare plan that you develop with Dr. Borsand during the consultation. We charge $250 for the consultation, which takes about 90 minutes. We do not offer financing options, but we may be able to offer sliding scale payment options if you qualify.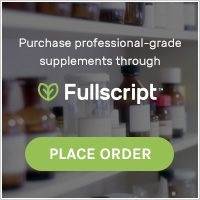 What Should I Expect from My Vitamins and Supplements Healthcare Plan?
We only recommend vitamins and supplements that have been tested by third-party labs and will never recommend something that we do not believe to be safe or effective. We use Fullscript to send you supplementation options and provide discounts on retail pricing. We are happy to evaluate vitamins and supplements from other sources, as well. It is of utmost importance that we ensure proper testing of vitamins and supplements, as many are imported from overseas and are not tested by the FDA.
We will never give stimulants to our clients who need to lose weight, as these types of products have risks that outweigh the benefits of short-term weight loss. We instead use a blend of herbs that regulate your cravings and ensure safe and effective weight loss. We send recommended weight management supplements through our Fullscript system, and they are delivered to your home.
Why Should I Choose Scottsdale Lifestyle Medicine for Vitamins and Supplements?
Dr. Borsand provides healthcare plans to his clients that are based upon all-natural lifestyle modifications rather than medications that are used in traditional medicine. Your body has an innate ability to heal and balance itself given the right level of support, such as nutrients and body composition. Dr. Borsand is the only allopathic-trained American Board of Lifestyle Medicine Physician in Scottsdale. He has taken courses in naturopathic medicine, and he uses those principles to help his clients.
How Can I Learn More About Vitamins and Supplements in Phoenix?
Alexander Borsand, MD, ABLM supports men and women in Phoenix, Scottsdale, Glendale, Mesa, and the surrounding areas of Arizona with vitamins and supplements that are based on all-natural healing that encourages lifestyle changes to heal the body. Our healthcare plans focus on your overall health and ways that you can protect and enhance your health. To learn more, contact us today to schedule a consultation with Dr. Borsand.